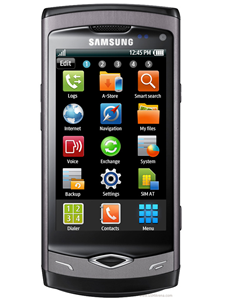 The Samsung S8500 is the latest phone with Samsung's own operating system Samsung Bada OS enabled with Super AMOLED display with Resolutions of 480*800(WVGA) with 3.3 internal size designed with a 3G platform embedded with Dolfin Browser 2.0. The messaging facilitates SMS/MMS along with Email with cell broadcast.
The business and office features have embedded Picsel Document viewer and flight mode voice memo and voice mail facilities along with mobile printing with video player, video streaming, and video recording with video telephony and video wall paper are available here. The camera comes with 5 MP with *4 digital Zoom with auto focus that you always wished for.
The connectivity area of the Samsung S8500 can be done by Bluetooth, Sync (DS), Sync (DM), PC Sync Application, WAP, and Wi-Fi with Internet HTML Browser. The memory card included is 2GB which is extensible up to 32GB. The Samsung S8500 costs Rs.17500/-.