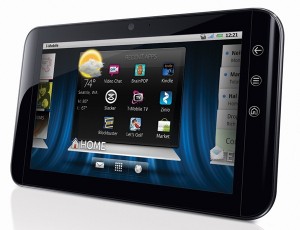 Dell introduces Streak 7 Tablet a gadget compact enough to carry with features that are great and absolutely functional. It is android 2.2 OS-based with upgrade bapability for upcoming operating system releases. Measures 7 inches with a multi touch display that features a powerful pre-installed Adobe Flash 10.1.
This tablet is created for T-Mobile's new 4G network and it has heavy hardwares like the NVIDIA's Tegra 20 dual core 1GHz CPU that's works very well with android 2.2. Other features are:
5 megapixel rear-facing camera to capture those unforgettable moments.
1.3 megapixel camera for video chats on Skype or Qik with family and friends wherever you may be. The big screen allows for more personal conversations with the people that matter to you most.
Wi-Fi or 3G/4G connectivity to enable you to stay in touch on the go. Browse, play, send and receive emails, post and share comments with a fast internet connection.
16Gb of internal memory storage
Bluetooth capability
Stage Software that offers fast access to watch your favorite clips and TV shows with a simple touch of a button. This softeware also allows usera to download movies, listen to songs play games and connect with friends and family through social networks like Facebook and Flickr.
An easy-to-use interface that lets users read and enjoy more than 700,000 eBooks in the Kindle Store.