Mobile games are video games that can be played on a handheld phone, smartphone, PDA, laptop, or portable media player. Snake is the first ever mobile game installed on Nokia phones in 1997. It is estimated that over a billion have played Snake since its introduction,
Mobile games are generally downloaded through the mobile operator's radio network, in some cases though they can also be installed directly into the handsets during production, also downloadable via infrared and Bluetooth connection.
The Following are the Top 5 Mobile Games
Tetris Mobile Phone Game
The Tetris mobile game is an adaptation of the classic game we all loved. A few modifications were done to make this popular game more updated and more appealing to the younger generation. For the mobile phone, a Marathon mode was added as well as two additional fast games; the Ultra – where you have to clear as many lines as you can in 2 minutes and the Forty Line – where you have to clear 40 lines as fast as you can.
[+] Read More
WORMS Mobile Phone Game
The classic comic war game is back on mobile with an all-new update for 2010! Send your worm platoons into battle with cult-classic weapons like the Banana Bomb and Super
Worms is a classic comic war game with an all new updated version. To play, you must send your worm platoons to war using classic weapons like the Banana Bombs and Super Sheep, new additions like the Spartan Kick and the Brick. Fight on levels that range from Easy to Insane.
[+] Read More
Chess Conquest Mobile Phone Game
This is a classic kingdom-defense game, wherein you as a King will have to fight for the freedom of your land and people. The main aim is to free the people as well as the neighbors against King Khnar who have managed to conquer the rest of the world and your castle is the last place where there is fighting still going on. To defeat Khnar who have a very big army you have to use all your skills and knowledge to win unique chess game.
King Khnar is conquering the world. Your castle is the last place where people are still fighting for the freedom. You, the King, are going to struggle for emancipation and
[+] Read More
Cricket Fever Mobile Phone Game
This game will let you play cricket against the world's greatest teams. Just try to beat all to become the champion.
Play cricket against the world's greatest teams. Choose your team, toss the coin, choose the number of overs and then bat & ball to victory. Try to beat all the teams to become the world champion!
[+] Read More
2-4-1 Absolute Sudoku and Kakuro Mobile Phone Game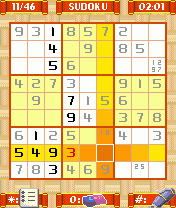 Sudoku is addictive, we all know that. Combine with Absolute Kakuro it is even more fun. More dilemmas and a whole new series of puzzle challenges await anyone who will try this unique number game.
Addictive and challenging, the great combination of Absolute Kakuro and Absolute Sudoku – both offering a host of puzzling dilemmas, with a variety of challenging and exciting problems to solve
[+] Read More