Price Range : Rs. 13238/-.
The Nokia 5800 Xpress music is the neatly designed phone for all music lovers .It is a Touch screen phone which has an enhanced TFT resistive touch screen supported by 16 M colors with 360*640 pixels resolution. The cute phone weighs 109gms with 111*51.7*15.5mm dimensions.
The device is a unique one which has a proximity sensor, accelerometer sensor along with a handwriting recognition. What else could you ask for in its new technology when it is already fueled with so many? The music can be continuously played for 35hrs which naturally goes hand in hand saying that it an Xpress music phone. The phone is inbuilt with a 3.15 MP camera which captures sharp pictures as wanted.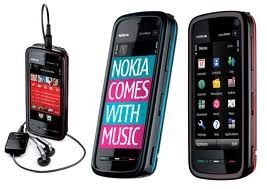 The advance technique which adds to the camera features are auto focus, Carl Zeiss Optics, and LED Flash options. The secondary camera permits video conferencing feature. It is available in Black, Red and Blue and costs around Rs. 13238/-.Start your music ride with the Nokia 5800 Xpress music phone rider.