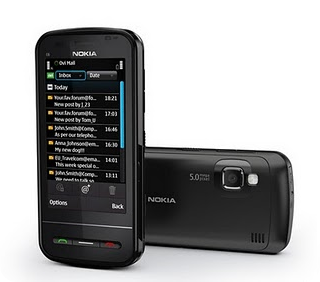 Price Range : Rs. 13500/-
Nokia C6 is a latest technology multi featured gadget. Released in the first quarter of 2010, the handset is a two in a piece. The benefit of touch and keyboard, both at the same time are a unique invention and are really great to get used with.
The display size is huge around 5MP with a pre-built LED Flash and a geo-tagging ability. The new Nokia C6 uses Symbian OS v9.4 as its default operating system. With a processor of 434 MHz and a great amount of usable RAM, you won't have to worry for application and games switching again. Video recording quality is once again great, with VGA output on 30 frames per second.
Some other great features are GPRS class 32, EDGE class 32, 3G HSDPA to up to 3.6MB per second, Wi-Fi with b/g/n support and USB 2.0 with microUSB. Internal memory is just 240 memory, but can be expanded to up to 16GB (2GB microSD card is available in the retail box).