MOTO 168 is one of the models of Motorola Phone the offers the most excellent Multimedia Messaging Service. It is one of the features considered as a necessity of most employees and business personalities. Through this, they can easily communicate and get in touch with their business contacts and officemates particularly during busy days.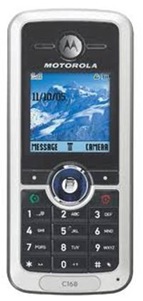 Price Range : Rs 1798/-
If you're anxious with regards to entertainment, well, you should not because it obtains different games and you can even download your favorite game and music. Besides, you can hear you favorite local FM radio station for it has an access of FM radio. So, having this cell phone you will never get bored of it, for the reason that this gadget will definitely entertain you.
MOTO 168 is considered not that luxurious and this is the primary reason why there are so many mobile phone users who prefer to buy and utilize this model. With its great features this is definitely one of the best cell phone to contain as of the moment.