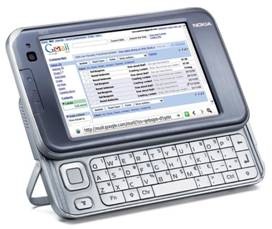 Price Range : 18,000/-
Nokia 810 Internet Tablet is an outstanding phone that is designed largely to provide wireless access to e-mail and the Internet. It features a trendy bar design with charming looks. It possess slide out QWERTY Keyboard that makes texting messages a great fun and comfort. It comes with a big 4.13 inches display screen with 800×480 pixels resolution that looks like a tablet form. User can access high speed emails and download information quickly with easy wireless connections. Moreover, user can take pleasure in high resolution display and enjoy a host of internet applications.
Nokia 810 Internet tablet features inbuilt memory of 2 GB that can be expanded with MMC (multimediacard) up to 8 GB. Thus, user has large amount of space at his hand to store his documents. It sports enhanced connectivity tools including Bluetooth, USB connector and WLAN for convenient data transfer between the devices. Moreover, it features a built in GPS system that use Wayfinder's navigation software. Thus, user can receive turn-by-turn voice directions while moving into unknown places. It has a VGA-resolution Camera with video calling features. This camera features a light sensor that automatically adjusts the screen and keyboard backlights.
The Nokia N810 features an updated version of Maemo OS 2008 with a Mozilla based browser in addition to Adobe Flash 9. User can enjoy Bluetooth headsets and video calling facilities by using Gizmo Project's software. This phone offers ultimate entertainment with inbuilt music player. User can play many interesting games on the tablet. It is so convenient to stay in touch with friends and families by exploring messaging functions like instant messaging, enhanced messaging and multimedia messaging with both videos and music files. It helps in efficient work management and it provides rich internet browsing experience.