Motorola Expected to Ship 700,000-800,000 Xoom Tablet PCs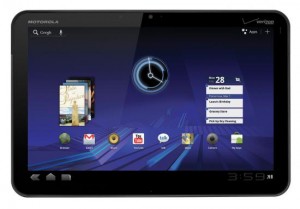 With the help of Google, Motorola has presented the new Andoid 3.0 based Xoom Tablet PC and there are about 700,000 to 800,000 units with four color options to be released in the first quarter of 2011. Orders are expected to go as high as a million before the actually release is done.
Taiwan-based notebook and handset chassis makers are expected to benefit from this chance of a tablet PC business.
The Motorola Xoom Tablet PC is a 10.1 inch HD Tablet that offers dual-core processing, Google's Honeycomb Platform and 1080p HD video content support. This is Motorola's answer to Apple\s iPad.
This new mobile gadget provides more ways to have fun while connecting with friends and stay on the job even while on the go. Watch videos, movies and picture slides with better visual on the larger HD screen. This tablet features a 2 megapixel camera at a front-facing position that can be used for video chats via Wi-Fi, 3G/4G LTE, as well as a 5 megapixel camera at the rear that captures video in 720p HD.
For those people who are always on the go, this device provides constant connectivity with Gmail or Exchange email. Open and edit documents, spreadsheets and presentations, view calendars and send out appointment with the speed of mobile broadband. The hotspot capability offers Internet connection for up to 5 other Wi-Fi capable gadgets.